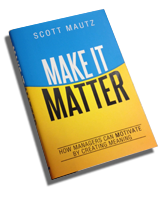 In February, Nehemiah Manufacturing was an early stop on the book tour of business consultant and author Scott Mautz.  The purpose of his visit? Celebratory. He came to distribute and sign copies of his first book, Make It Matter, and to thank Nehemiah for participating in the content. Scott was here before, years prior, to interview Dan Meyer and a few of the employees about the standout culture that Nehemiah fosters. And this time he was coming back – finished book in hand. What he got to witness was that the culture he found attractive years ago had continued to grow and deepen.
The Nehemiah story is highlighted in the chapter on Cultures of Consequence. Scott makes note of the fact that a company's culture can and does influence performance. The norms, attitudes and beliefs adopted by the workers have a tremendous impact on the bottom line. Quoted in this section are Dan Meyer, Shawn Spradley, Clifton Misbetl, Michael Taylor, and Angela McDonald. The amazing fact is that two years after the original interviews, all these employees except one are still happily working within or for Nehemiah.
Within the book, Angela McDonald is quoted, "This is a family here – a true family. It's amazing what they are willing to do for us. And they listen to your ideas, no matter who you are. They care enough to really listen." Two years later, Angela is running her own office cleaning business. Her first big client? Nehemiah Manufacturing. When she presented the owners with her idea, they immediately got behind it and helped her make the transition from Nehemiah employee to supplier. Her thoughts captured in Make It Matter have turned out to be prophetic.
Scott Mautz noted that showing up really caring is part of the DNA of Nehemiah. In the book, he quotes Dan Meyer, "It's not about what you say. I can tell everyone all day how much I care. It's about what you do." And the doing has been demonstrated. Michael and Shawn have both been promoted several times since their book interviews. One works in the Findlay office, the other manages the Highlands warehouse now. And they're both as on-fire to serve the company today as they were then. Says Spradley today, "I'm part of a family. It's a family I'm committed to serving with every thought and every ounce of energy I have. I'm passing on what's been given to me."
This concept of family at Nehemiah has become even more profound recently. At the time of the original interview, Michael Taylor and Angela MacDonald knew each other only casually. And now? They are engaged to be married this year. They've taken the concept of family at Nehemiah to a whole new level indeed. Coincidence? Probably. But it sure makes it tough to decide which side of the aisle we're going to sit on.